"Our Foundation is Integrity"
BuildSOS has created an all-encompassing approach to revolutionize the homebuilding industry. We have incorporated multiple entities and approaches that will regenerate our efforts for years to come. We are focused strengthening the backbone of the work force through education and engaging multiple key entities, to educate and help communities throughout the United States. In times of disaster, we will unite volunteers and State Emergency Officials with a system of integrity and trust while setting new standards of protecting the health, safety and general welfare of the public.
Mission
Uniting residential building professionals and communities through a system of Integrity and Trust while setting new standards to protect the health, safety, and general welfare of the public.
The BuildSOS Mission helps communities develop their own pre and post-housing recovery plans.
BuildSOS provides an innovative technology driven platform that incentivizes local community residential builders to participate in the development of pre and post-disaster community housing disaster recovery plans. Residential builders are the experts that built their community's housing.
A pre & post local community housing disaster recovery plan seeks to connect the stakeholders of that community; homeowners, builders, subcontractors, manufacturers, professionals, vendors, non-profits, volunteers, and government. The expert professional organizations are uniquely qualified to design and development their own local community disaster plans through networking and collaboration.
In addition, BuildSOS offers homeowners the ability to document their home and property pre-disaster with an interactive 3D model of their home complete with comprehensive exterior dimensions accurate to within an inch. BuildSOS provides access to a business partner application system called "HOVER," which simply involves the taking of eight photos of the perimeter of the home. The free downloadable BuildSOS App allows the homeowner or builder the ability to take interior photos of their home to document living space and contents of the home pre disaster. These photos provide the homeowner with the "proof or evidence" required to verify and validate their home and property values in the event of a disaster. This documentation of your home and property assists you in communications with your insurance carrier, mortgage lender, or financial institution as you seek to reconstruct your quality of life.
ARE YOU READY TO PROTECT YOUR HOME AND PROPERTY BEFORE THE NEXT DISASTER HITS YOUR COMMUNITY? REGISTER NOW AND YOU WILL RECEIVE STEP BY STEP INSTRUCTIONS FROM BUILD SOS!
Story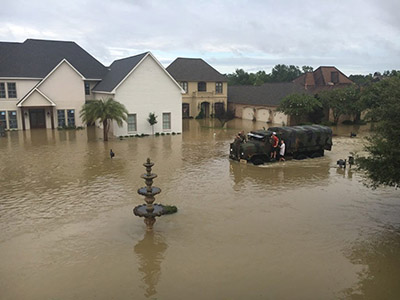 The 2016 Louisiana floods unexpectedly submerged thousands of homes and businesses. Many of these homeowners were uninsured and lacked the financial means to pay for repairs out of their own pockets. During this chaotic time, a team of Construction Financial Professionals teamed with a group of Louisiana Construction Industry Professionals to implement a new business model in order to help residents recover faster and more efficiently. The missing component for immediate solutions to get Louisianans back into their homes, was the delay in government assistance and insurance payments. The Team also joined with the Community Initiatives Foundation of Baton Rouge, run by Sister Judith Brun, to further developed this financial plan to address the financing issues; the former brand name, Rebuild SOS was launched.
Since BuildSOS's launch, several of the industry's best construction firms joined the efforts, while major retailers signed on as partners to offer group discounts. The company also absorbed another company that supported a builders' network, in order to strengthen common goals. It was quickly realized that the tenets of Rebuild SOS had application beyond disaster response. On December 27, 2016, BuildSOS, was formed to become the parent company to Rebuild SOS, in order to apply the same model for all residential construction needs.